Tile Flooring in Oklahoma City, OK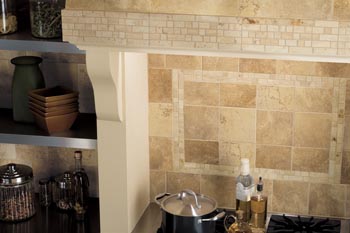 When you want to update the look of your home or increase its value in preparation for selling, new tile flooring is one of the most attractive and worthwhile home improvement options. Our ceramic and porcelain tile selection is wide enough that you're certain to find something that suits your needs. We have tile flooring installation specialists that ensure your new floors look exquisite and last for years. With designs from high quality brands such as Design Distinctions™ and Floorcraft™, you can rest assured your new porcelain or ceramic tile floors will look and function exactly the way you want.
Tile Flooring Installation with Seamless Results

Tile flooring can be tricky to install, so make sure you protect your investment with tile flooring installation by our skilled professionals. We make sure your gorgeous new flooring is level, structurally sound, and properly sealed to maximize moisture resistance. With proper installation from our specialists, your floors will look and function great for many years to come.
Our commitment to helping you doesn't end after you've selected your tile. We offer professional tile flooring installation as a part of our comprehensive flooring service. With our help, you won't have to worry at all about your flooring project; we've got you covered from beginning to end!
Porcelain Tile for an Elegant Look
Add refinement and elegance to your kitchen or bathroom with porcelain tile. One of the most durable types of tile, porcelain is a great investment because it lasts for a much longer time than other types of flooring. With proper installation and care, your porcelain flooring will look and feel great for many years. In addition to durability and longevity, porcelain is a water and frost-resistant surface, making it suitable for use outdoors as well as inside. Enjoy the beauty of tile flooring next to your pool in the summer without worrying about it cracking during the cold winter temperatures.
Ceramic Tile is Perfect for Kitchens and Bathrooms
Improve the look and value of your kitchen, bathrooms, laundry room, or entryway with ceramic tile. This tile can be made in any color or shape, and is even able to mimic the appearance of stone. Ceramic is an affordable and attractive option that makes any room look more refined. Like porcelain tile, ceramic is a water-resistant material, making it a prime choice for rooms with frequent spills, high humidity, or foot traffic. Its easy maintenance means you don't have to spend hours each week scrubbing your entryway or kitchen to get that brand-new appearance. A simple sweep with a microfiber dust mop removes the dust and dirt, keeping your tile flooring immaculate.
The Many Advantages of Owing Tile Floors
Are you looking for a fast and affordable way to improve the interior atmosphere of your home? When you purchase new tile flooring at our store, you get a durable surface to your home that perfectly matches your sense of style. From sleek and modern, to rich and classic, we offer a wide selection of tile flooring, including wood-look tile.
In addition to their elegant, refined appearance, tile floors are water-resistant and easy to clean. They're an excellent option for people with pets or children, and do exceptionally well in bathrooms, kitchens, and laundry rooms.
One of the greatest benefits of both ceramic and porcelain tile floors is that they repel allergens, making them a perfect addition if you or your family members suffer from allergies or asthma. The glaze on porcelain and ceramic tile means that dust, pet dander, pollen, and other allergens simply rest on top of the flooring rather than being trapped inside. Getting rid of these irritants is then a simple matter of sweeping or mopping. Rather than invest in air purifiers or expensive deep cleaning equipment, put in tile flooring and experience easier breathing year-round.
A Tile Flooring Selection That Guarantees Satisfaction
When investing in something like flooring, you want to make sure that you are completely confident in your decision. At our flooring store, we understand that no homeowner wants to feel limited in a lasting choice like tile flooring. With an extensive selection of tiles, including materials like ceramic and porcelain, you can count on us to make sure that your every need is satisfied.
By backing our products with wear, fade and stain warranties that can last up to 25 years, you can't go wrong with any of our tile flooring products. You get to customize all of the following attributes of your new tiling:
Tile Size
Tile Shape
Tile Color
Tile Texture
Discount Tile Flooring: Performance You Want at Prices You Need
With the impressive buying power of Flooring America, you are sure to get your tile floors for a price you appreciate. We have an extensive network of locally owned flooring stores, so we can offer the lowest prices on some of the most trusted types of discount tile flooring. If you are in the market for new tile floors, stop by our store today so to speak with one of our professional associates about our exciting flooring options for any room in your home.



Contact us to learn more about our carpet flooring sales and installation. We proudly serve the communities of Oklahoma City, Midwest City, Moore, Yukon, Edmond, Norman and Bethany, Oklahoma.