Hardwood Flooring in Oklahoma City, OK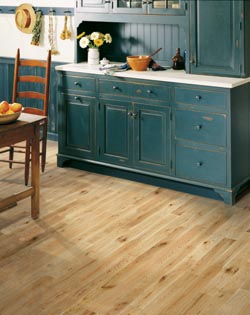 There aren't many products in life that hold their popularity, classic style, and desirability over the years and across generations, but there is one that springs to mind -- hardwood floors.
At Flooring America, we have a broad range of hardwood flooring in Oklahoma City, OK to meet the desires of even the most discerning customer. If you are looking for the golden, honeyed tones of oak, the strong and expressive grains of maple, or the rich depth of walnut, you've come to the right place. Floors graced with hardwood never go out of style and always bring an aura of elegance to every room.
The Products to Meet Your Needs
We have all the major brands to choose from at our store, and you get the service and support you need from our friendly and helpful flooring specialists while exploring your options. Choose from products of the highest quality from names such as Downs Performance and Bedford Mills.
There are several factors to consider when making your decision, such as:
Species & Wood Type
Construction & Size
Brands
Color & Style
An Attractive Option
The ongoing pursuit of excellence in the flooring industry results in sterling products such as engineered hardwood flooring. This product is created with several layers of wood, usually three to twelve, which are combined and result in an appealing floor that is durable and beautiful.
It is an affordable option that is known for its moisture resistance and viability in areas such as basements and bathrooms. It can be glued directly to concrete slabs or stapled directly to a subfloor.
Made to Last
Solid wood flooring is made to last and looks great while doing it. It is one of the toughest and most durable types of floor covering on the market. With regular cleaning and maintenance, it will last and make a favorable impression in your home for decades to come.
Another Choice for Your Floors
In years past, homeowners desired beautiful floors without a scratch. You can still choose those smooth examples today, or you can go in another direction by opting for a hand-scraped surface for your solid or engineered wood flooring. Hand-scraping the wood assures that it hides the little imperfections that occur to floors over time thanks to the wear and tear of everyday life.
Whatever type you decide upon for your home or office, we are ready to provide the hardwood flooring installation you need. Our team is ready to do the job with precision and swiftness. We're so sure you will love your new floors that our Ultimate Confidence Guarantee states that we will replace them at no additional charge within 30 days if you are not satisfied for any reason.
Contact our flooring specialists today with all your questions about hardwood flooring options. We are proud to serve customers in and around Oklahoma City, OK.