A Leading Supplier of Wood Look Tile in Oklahoma City, OK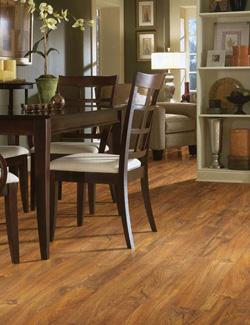 If you're interested in learning more about wood look tile in Oklahoma City, OK, you're in the right place. Whether you have an encyclopedic knowledge of flooring materials or just committed to your first-ever replacement in your home, the team at Flooring America of Oklahoma City can help you make the most of your project. We offer tile options that encapsulate everything homeowners love about the appearance of natural hardwood, plus some added advantages that only this material can provide.
No matter the scope or scale of your flooring needs, our highly trained experts can guide you to a promising purchase that sets the right foundation for your future comfort. From comparing wood plank ceramic tile with its porcelain counterpart to buying a stylish area rug to top off your room's new look, you can do it all in one convenient location when you stop by our showroom.

Porcelain or Ceramic?
As a relatively new choice for wood-emulating flooring, tile is often one of the materials that most homeowners aren't intimately familiar with. When you make an investment in your home's beauty and value, you want to be certain that you're getting the best porcelain or ceramic for your money, so make sure you're fully informed by shopping with help from our team. We can explain crucial differences that help you match your materials to your needs and available space.
Perfect Porcelain--Beauty and fragility don't go hand-in-hand when you choose our wood plank porcelain tile options. Tough, attractive, and highly water-resistant, they make the ideal solution for rooms where you wouldn't usually be able to even consider a wood-based aesthetic due to moisture, such as bathrooms, kitchens, and basements.
Stunning Ceramic--If you have a challengingly proportioned space, ceramic is a great way to ensure the flooring fits the area seamlessly. Easy to cut, it offers superior versatility and allows you to maximize value. For these reasons, our wood plank ceramic tile is a smart pick for expansive and unusual flooring improvements.

Seizing Every Advantage
Far from a settling point, our luxurious tile options are a strong contender to give you one of the industry's most coveted styles. Their grouted wood grain surfaces craft authentic flair with additional benefits like:
Efficient Heating and Cooling
Limitless Design Options
Hassle-Free Maintenance
If you're ready to start shopping, visit us today. We'll walk you through our full inventory of eye-catching products and help you find the one that fulfills your unique vision for your space.


Contact us now to take advantage of our extensive flooring knowledge and get help with your project. We proudly serve Oklahoma City, Midwest City, Moore, Yukon, and Edmond, Oklahoma, as well as the surrounding areas.