Waterproof Floors in Oklahoma City, OK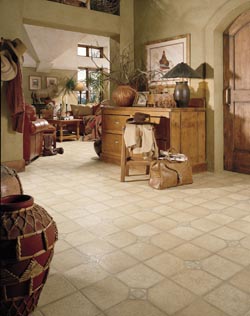 Are you tired of worrying about spilled drinks and muddy shoes ruining your home's flooring? Busy homeowners with active households are turning to us at Flooring America for our waterproof floors in Oklahoma City, OK. Ideal for homes with kids and pets, these flooring solutions withstand moisture and stains for a more stress-free experience.
A waterproof floor is an investment in your home that you'll thank yourself for buying. Easy to clean and highly durable, our products maintain a like-new appearance even after heavy use with only minimal cleaning.
Say Goodbye to Stains and Water Damage
Waterproof flooring, such as our luxury vinyl and carpet options, offers superior protection without sacrificing attractive appearance. Remodeling with these materials allows you to bring your design vision to life while ensuring that your floors are easy to clean after busy kids and pets hurry from room to room. In fact, these waterproof materials even let you extend your stylish flooring upgrade into your kitchen and bathroom. There's no need to settle for boring flooring when you come to our showroom.
Experience the Luxury of Waterproof Vinyl Planks
Today's vinyl planks offer property owners the appearance of real wood. Vinyl reproduces your favorite hardwoods so you can enjoy a warm, natural-looking home floor that has the extra advantage of being waterproof. These luxury vinyl planks give homes a classic elegance that's sure to enhance your indoor design. Come browse our waterproof planks to find your favorite style. Our store associates are ready to provide expert assistance on finding the new flooring of your dreams.
Water-Resistant Carpet that Lasts
Homeowners who love the underfoot feel of carpet will rejoice when they discover our selection of waterproof options. Our inventory features beautiful carpet styles from the industry's most recognized manufacturers. These durable, moisture-resistant carpets bring a visual appeal, comfy feel, and toughness that will complement any home interior.
Our customer support doesn't end at the time of purchase. Once you have chosen the carpet or vinyl planks that are right for your project, we provide professional installation to make sure that you get the most out of your new water-resistant home flooring. Proper installation is necessary if you want your flooring to look and perform its best over time. As our customer, you can count on industry-leading products and service that no one can beat. We look forward to seeing you at your next visit.
Contact us to get started on your next remodeling project. We proudly serve customers from throughout Midwest City, Moore, Yukon, and Edmond at our flooring showroom in Oklahoma City, Oklahoma.